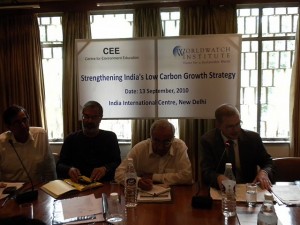 from: Worldwatch Connect Newsletter Nov. 2010
Worldwatch's Director of Climate and Energy, Alexander Ochs, recently returned from a trip to India more optimistic than ever about India's role as a global leader in sustainable development.  Through numerous meetings and discussions with governmental and non-governmental representatives from the Indian energy sector, Ochs advanced the work of Worldwatch's India Program and laid the groundwork for future partnerships. And he returned with hope and enthusiasm both for India's promise for innovative leadership and Worldwatch's potential role in this transition.
This optimism is due in large part to what Ochs observed as a dramatic shift in attitude and approach towards energy resources and economic development in India.  For the past two decades, India has shared the belief with much of the World's developing nations that they held the right to support development with fast and cheap energy resources. Much like the United States, United Kingdom, or Germany, India would have an industrial age of rapid development supported by abundant and easily-utilized resources like coal and oil, with some regrettable but necessary negative impact on the local and global environment. The  prime goal needed to be quick development at whatever ecologic expense. While this remains a widely-held paradigm, it is no longer driving the dialogue amongst a large portion of India's policymakers and business leaders. Today, India chooses to take an active role as one of the biggest global energy markets.
Ochs is confident that the India Program, as it continues to grow, will provide relevant and accessible research and analysis to a wide range of stakeholders in India's emerging green economy. Noting that the country is already lowering energy intensity by 3% per year, he is encouraged by the fact that committed communities of stakeholders are passionate about keeping the economy on a low-carbon energy path.  He also points out that because of India's fossil resource limitations  there is really no alternative to clean, low-carbon development.  India currently relies heavily on the import of dirty fossil fuels.  80% of its oil is imported at a high cost to the economy. Coal is not as abundant as previously thought, and in fact might only last another 30 years at the expected growth rates of electricity demand. Given these resource constraints and the fact that 50% of the domestic population is still without reliable access to energy, India must consider alternatives like unconventional natural gas and renewable resources like solar and wind power.
Clean energy solutions are in the interests of the Indian people as they reduce local pollution and related healthcare costs; create jobs, expertise and global market share in emerging sectors; and improve energy security. This great potential is multiplied by the current boom in India's information technology sector which opens up possibilities for advanced smart grid technology. "India could become a world leader on high-quality, intelligent and sustainable energy systems," Ochs says with a smile.
Worldwatch is poised to take an active part in this transition. In the months ahead, the India Program will focus on researching low carbon energy growth strategies. Based on the model of our current project in the Caribbean, the Climate and Energy team plans to produce a comprehensive roadmap for India's clean development. The team will also produce a report which outlines the current status of energy efficiency and renewables in India, and where the country can be by 2030. Additionally, the India Program will conduct research on the green economy, transportation, natural gas-renewables  integration, as well as the water needs and impacts of different energy sources.