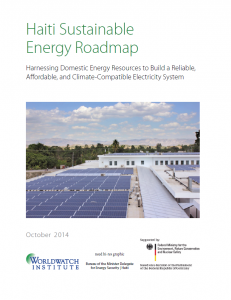 Matthew Lucky, Katie Auth, Alexander Ochs (Project Director), Xing Fu-Bertaux, Michael Weber, Mark Konold, Jiemei Lu | November 2014
Haiti's electricity sector stands at a crossroads. Haiti depends on imported petroleum for 85% of its electricity generation, diverting 7 percent of its annual gross domestic product to importing fuel. Still, only 25% of the Haitian population has regular access to electricity, bringing barriers to advances in economic opportunity, health, education, and social equality. Yet, according to the Worldwatch Institute's new Haiti Sustainable Energy Roadmapreport, tremendous opportunities and actionable solutions exist to build an electricity system that is economically, socially, and environmentally sustainable.
The Roadmap is the culmination of years of intensive investigation and analysis into the potential for energy efficiency and renewable energy deployment in Haiti. For example, only 6 square kilometers of solar photovoltaic panels would be able to generate as much electricity as Haiti produced in 2011.  The study compares the full economic and societal costs of Haiti's current electricity sector and its business as usual development to that of alternative pathways and concludes that Haiti will benefit immensely if it relies more heavily on renewable energy sources and less on fossil fuels.
The highest renewable energy scenario shows savings of up to USD 5.84 billion by 2030. Up to 1,870 new jobs would be created, electricity access expanded, local air and water pollution reduced, and health and education improved.  Ambitious policies towards these goals would position the country – which already suffers from the consequences of extreme weather conditions –as a leader in climate change mitigation and adaptation. Based on analysis of Haiti's business environment, the Roadmap suggests concrete regulatory, policy and institutional changes that will be necessary to attract new investments in clean energy solutions.
YOU CAN FIND THE MORE INFORMATION ABOUT THIS PROJECT AS WELL AS THE FULL REPORT [HERE].