presentation
Comments Off

on Energizing Successful Economies: How Renewables Are Outperforming Fossil Fuels
online article
Comments Off

on Advancing Low Carbon Development in the West African Region

COP 21 Panel, 8 December 2015, African Pavilion. Presented by: The Economic Community of West African States (ECOWAS) and Centre for Renewable Energy and Energy Efficiency (ECREEE). This panel discussed advancing low carbon development in West Africa and was moderated by Youba Sokona, Special Advisor on Sustainable Development, South Centre.
Alexander Ochs, Director of Climate and Energy, Worldwatch Institute, said there will be no sustainable economic growth or social development if Africa's main energy source is fossil fuels. He said centralized fossil fuel based energy systems are not going to solve the problem of climate change or increase access to energy because they are too expensive, and he therefore recommended decentralized systems and renewable energy. He said Africa is not starting from scratch and that there have already been some "enormous advances" in technology and policy development.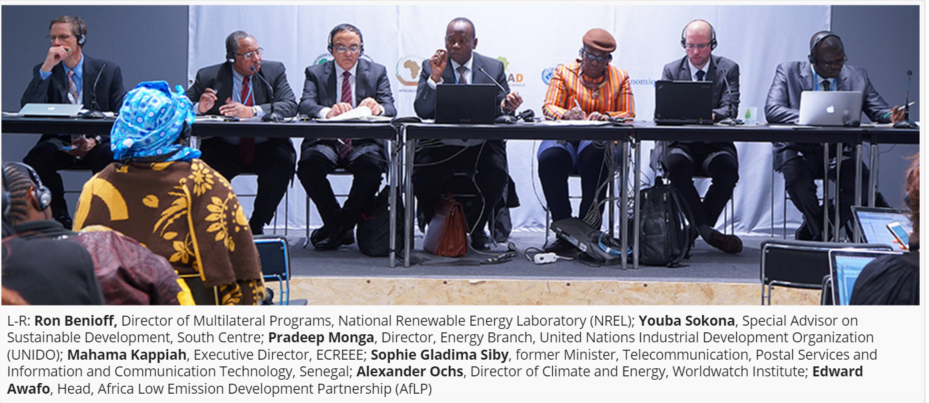 Mahama Kappiah, Executive Director, ECREEE, outlined that of the 334 million people in the ECOWAS region only 42% have access to energy and that the energy used mostly comes from fossil fuels and biomass. He said the ECOWAS Energy Strategy for 2030 aims to provide 100% of the region's population with access to clean cooking energy by 2030 and increase the share of renewable energy in the overall electricity mix to 35% by 2020. He noted another aim to improve the electrification rate from 34% to 88%, an increase equivalent to 60 million households gaining access to electricity between 2015 and 2030. Continue reading »
Uncategorized
Comments Off

on Can clean energy trump chaotic politics?

Lisa Friedman, E&E reporter, Published: Tuesday, January 13, 2015
Five years after a catastrophic magnitude-7 earthquake rocked Haiti, killing 220,000 people and leaving the capital city of Port au Prince in ruins, clean energy experts say they are cautiously optimistic about progress despite the country's political turmoil. A recent road map published by the Worldwatch Institute described the Caribbean island nation as being at an energy crossroads. Just a quarter of the country's 10 million population has access to electricity, the lowest rate in the region, and the vast majority of those who do live in urban areas. Meanwhile, about 85 percent of the country's electricity generation depends on imported oil. But, it finds, powering the country with 90 percent renewable energy is "a realistic option." Doing so, the authors argue, can improve Haitians' access to energy and create a low-carbon model of growth for other small island nations. But the effort won't be without serious challenges. (…)
Alexander Ochs, director of climate and energy for the Worldwatch Institute, said "bottom-up" energy access work is where the most promise is in Haiti at the moment. "I think people are taking power, the electricity power, into their own hands now," Ochs said. On a national level, he noted, "policies have not changed much" in Haiti, and said it's up to the government to change the country's course.
From a technical standpoint, according to the Worldwatch study, promise for developing an electricity sector based on renewable energy in Haiti abounds. In outlining several scenarios for expanding clean power, researchers conclude that achieving a 90 percent share of renewable energy would call for investing in 120 megawatts of natural gas capacity by 2030 while adding about 1,900 MW of renewables to its existing hydropower capacity. Yet wariness from investors because of political instability and policy confusion remains a major problem. (…)